When I was younger, I admit, I used to be envious of how fast my mother and sister could read. It seemed like they could read three pages to my one. Granted, I was obviously younger and therefore hadn't read as much, but I used to try to speed up my reading to match them. Of course, when that happened, it usually resulted in my not remembering a thing I'd read and going back and rereading it anyways. But still, the fact my mother and big sister could read so fast was a feat to aspire to. I wanted to read like they did!
& that's the type of household I grew up in (at least as far as the ladies are concerned - the boys occupied their time elsewhere) and I love it. I remember entire
afternoons
days where the three of us could be found with our noses in a book. I can look back laughingly now, at the poor judgment someone would make and attempt to talk to my sister while she was deep in a story. It usually ended with her snapping at said person for interrupting her mid-adventure. & I can remember times I did the exact same thing.
I wouldn't have wanted things any other way, for I've no doubt the love of reading that was prevalent in my household and instilled in me as a child then translated into a love of writing and consequently, made me who I am today.
But anyways, back to my reading speed. It's obviously improved the more I've read, and I decided as I grew that when reading a novel, there's really no need to rush anyways. After all, they're supposed to be "leisurely" reads aren't they? But! Thanks to a fun little test Staples put out for some eReader PR, I've recently been able to check just how fast I can read. And while it might not be as quick (or maybe it is?) as my reading role-models, I'm still 118% faster than the national average, at a rate of 544 words per minute. That's about 100 words faster then the average college student, but 250 words slower than high-scoring college students (to this, I must feel slightly affronted, since my grades weren't bad in college, and would have been significantly better if I'd learned not to procrastinate -- sorry professors!). If I maintained that speed, I could read War and Peace in 18 hours, The Lord of the Rings in 14 hours and 40 minutes, A Tale of Two Cities in 4 hours and 9 minutes and The Adventures of Huckleberry Finn in 3 hours and 21 minutes.
However, I feel I have to be honest – I'm sure that speed wouldn't be maintained, because despite the directions telling me to read at my "natural pace" I read at my newspaper editing pace instead. I had to compete with myself! The test also made me want to read Alice in Wonderland, The Wizard of Oz and The War of the Worlds. Library trip anyone?
How fast do you read?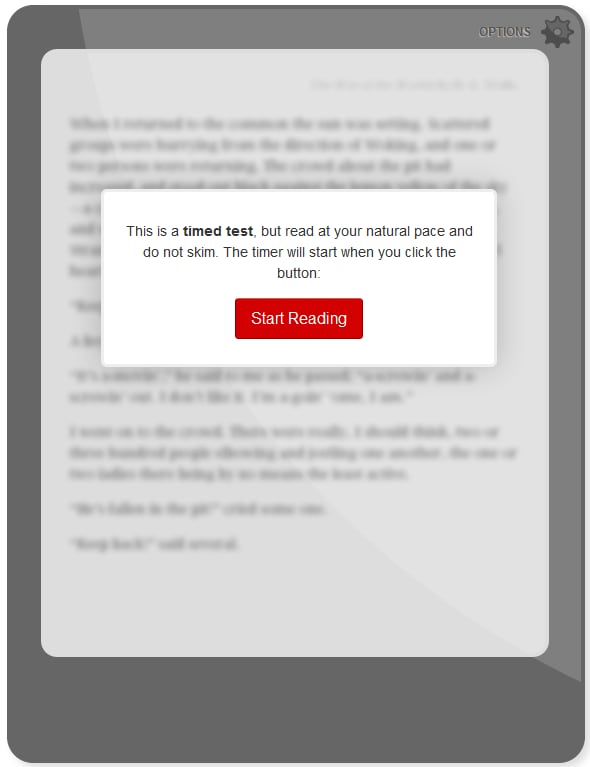 Source:
Staples eReader Department